CLICK BELOW TO LISTEN TO Ferguson Response Podcast – #SlaveryWithASmile
@LeslieMac & Ricky from @AUADOTORG are joined by Mikki Kendall, Roni Dean-Burren,Edith Campbell & Allyson Criner Brown to discuss #ReclaimMLK 2016 and the current, historical and on-going saga of the #SlaveryWithASmile narrative in children's literature.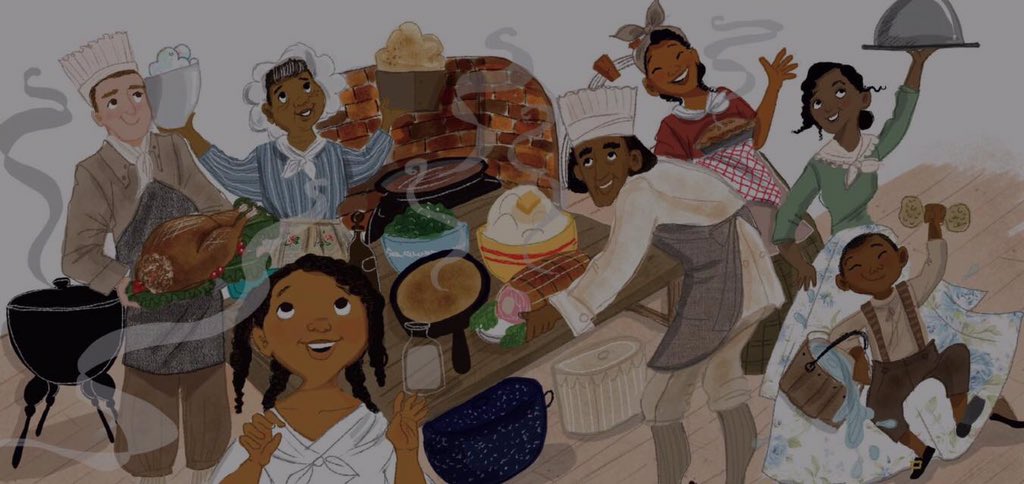 UPDATES:
Since this post was published Scholastic released a statement pulling "A Birthday Cake for George Washington" from shelves.
You can read my updated Storify with my thoughts below
We also recommend the following places to find additional information and context for this important discussion:
Debbie Reese curated this page which includes a running list of posts & articles related to this book and the fall out.
---
By Ferguson Response Founder Leslie Mac
Last year we saw the book A Fine Dessert released to large acclaim. This children's book about a dessert – Blackberry Fool – as made by 4 different families in 4 different eras includes a slave woman & her daughter making the dessert for the slave owner.
You can read a few pieces about this critically acclaimed piece of children's literature here & here & the author's response to criticism of her portrayal of #SlaveryWithASmile here.
Most importantly I suggest watching author DJ Older's thoughts on the book & the depiction of slavery in kid-lit:
Now in 2016 we have another entry in the #SlaveryWithASmile genre with Scholastic's new book "A Birthday Cake for George Washington". This books release was accompanied with a pre-emptive explanation of the language & imagery used to tell the story of one of George Washington's slave cook Hercules. You can read that piece written by Black editor Andrea Davis Pinkney here.
Of course many of us have had more to say about this book, it's subject matter and the general subject of depicting #SlaveryWithASmile
This topic is not a new one. Academics, educators, writers & publishers have discussed how to tell the stories of Black people with nuance & truth for decades. But this disturbing push to depict #SlaveryWithASmile and portray the lives of slaves & their interactions with their owners without including the truth & barbaric truths of slavery is getting out of control.
A week from today I will be sitting down for an in depth discussion about #SlaveryWithASmile on Ferguson Response Podcast. I will be joined by some amazing women Roni Dean Burren, Edi Campell & Mikki Kendall. I look forward to this enlightening & honest conversation about how our past as Black people us portrayed in literature.
NOTE: I have reached out & invited both the author & editor of A Birthday Cake for George Washington to join us – neither have responded to the invitation.