UPDATE 1/25: We successfully delivered over 1,000 gallons of water to Flint on Sunday 1/24. We also made direct contact with an amazing (Black Female) local organizer who we will be supporting and working with moving forward.
In addition to the water deliver, we were able to work with local organizers to translate their specific demands, pay for copies of the demands to be distributed locally and provide financial support for the local organizer. We also help in research of methods such as water filtration units installed in homes, to see if they could offer assistance after taking a moment to consider Water Filter Way's articles and other resources on the matter. Please continue to donate & share the link so we can help this amazing woman do what is needed to make real change for her community in Flint.
Ferguson Response will be headed to Flint, MI to bring water
Fundraising Websites – Crowdrise
T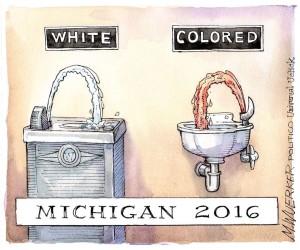 he Flint Water Crisis has left those most in need of help with little support. Current mechanisms have left Public Housing & jail/prison inmates out of the donation cycle.
Ferguson Response is headed to Flint with members of BLM-Kalamazoo and needs help renting a truck & securing water for folks in need.
Our efforts will solely focus on deliver to Public Housing in Flint and in gaining access to inmates to give them clean water. Inmates in Flint are STILL 100% on contaminated water with no filters – they are forgotten and this needs to change. Please donate today.