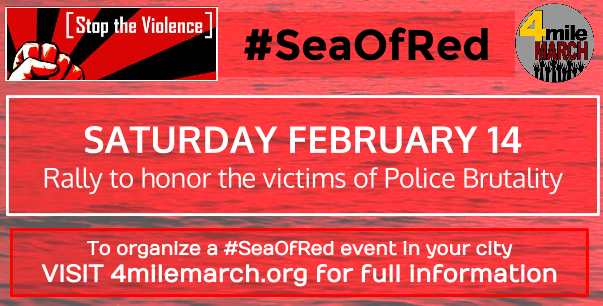 The blood of the innocent cries out from the streets of Cleveland to Beavercreek and from Staten Island to Ferguson and beyond. Join the Rice family in seeking justice for Tamir and all victims of police brutality.
Come to Cleveland, February 14 or host a Sea of Red Rally in your city!
@14:00 Hours in Cleveland's Public Square on the 14th of February, we will remember the slain and stolen lives of innocent victims for 4 hours.
4.0 minutes, Tamir was left to die without efforts to revive.
4.5 hours, Michael Brown's body left in MO summer streets.
4.0 hours, We rally to demand justice, reform and accountability.
Suggestions/Ideas for #SeaOfRed Events:
All Red attire at all events
Red Ribbons around town, on cars, front doors, trees, etc.
Mini Concert/Rally/Parade/March for stop the violence, stop police brutality, with speakers, performers, spoken word, poetry, etc.
Slogan #NoJusticeNoLove
#SeaOfRed banquet fundraiser with money given for bail bonds, transportation, supplies, and equipment for future events.
Victim name reading and moments of silence.
Red banner that reads "Victims of police brutality- the blood is on their hands"
Pass out red armbands.
Mini balloon release. and launch.
USE THESE HASHTAGS:
#‎SeaOfRed
#‎NoJusticeNoLove
#‎BlackFutureMonth
To plan a #SeaOfRed Rally in your city visit http://www.4milemarch.org/