Well – the Confederate flag will no longer fly outside the state house in Columbia, SC. It was taken down in what was repeatedly referred to as a "small dignified ceremony" in front a large crowd of citizens, lawmakers and the families of 9 souls killed in the name of hatred in Charleston, SC. just a few weeks ago.
I wasn't going to write anything about this symbolic moment, but I was so struck today by the aforementioned "small dignified ceremony" that I realized I did indeed have something to say. So I wrote a little something about it, want to read it? Here it go…
---
Let's back up a bit and go through the history of THIS flag at THIS location in THIS state.
This Confederate flag was placed in front of the Columbia, SC Statehouse on April 11, 1961 as part of the Centennial celebration of the firing on Fort Sumter, which opened the Civil War. It became a formal figure above the Statehouse on March 16, 1962 when lawmakers approved a measure to make it's place permanent.
A few months before the flag was raised that first time, a groups of black students who would become known as The Friendship Nine were arrested and convicted the following day for refusing to leave an all-white lunch country in Rock Hill, SC. These students refused bail and spent 30 days doing hard labor at a County Prison Farm – meanwhile the lunch-counter & jail-not-bail protest model spread across the South. It was widely know that SC Rep John A May who requested the flag be flown did so in direct response to the actions of the Friendship Nine.
Who were the Friendship Nine?
---
Fast forward to 2015 when 9 Black community leaders were killed in Emmanuel AME Church in Charleston SC. All of a sudden this symbol of hatred and anti-blackness became a hot topic. We've listened to the flag defenders (it's about heritage not hate etc). We've heard impassioned pleas from civil right leaders (Take that flag down!). And most importantly we watched modern day SHERO @BreeNewsome take matters into her own hands and remove it forcibly.
I've also watched all the petitions to remove the flag from other state capitols and other state flags, no they're not wanting people to remove their star-spangled banners and flag poles from their yards, but the petitions are largely targeting flying confederate flags. I've read the press releases from big box stores like Sears & companies like Amazon & Google that they will no longer offer the flag on their platforms or stores. I've seen Apple remove games from it's App store that feature the Confederate flag.
All that is good right? And I guess I agree. But my thoughts about placing a high level of importance on of all of this is muted for a number of reasons.
This flag coming down isn't a victory AGAINST Supremacy.

It is a basic gesture of common decency. The fact that it took 9 dead Black people in a church to get it removed isn't victory at all. Let's keep it real. Too many times the acts of white folks are exalted to victorious status for no reason. We see this happening here in so many circles. This is in full display in the video of SC Rep Jenny Horn use her White Woman Tears (TM) to finally get the vote done to take down the flag.
This isn't a blow against racism.

It is the removal of a symbol of anti-blackness that has stood for far too long. And again it TOOK THE MURDER of 9 BLACK PEOPLE IN A CHURCH to get it removed. If this WAS a blow against racism, that flag would have been down the day after the massacre in Charleston – when you add debate and discussion, you lose the moral high ground to the process.
White America (TM) is celebrating.

Too many white people are using the removal of this flag and the discussion surrounding it's meaning as cause to celebrate. Please stop. This is not the time for you to celebrate. Black people have been decrying this symbol of hatred for decades in public & in private.
What you SHOULD be talking about is why YOU as a collective group have been okay with these symbols of hatred in your communities for so long?
What you SHOULD be talking about is WHY those black voices weren't heard by White American (TM) until 9 of my people were murdered in cold blood in a house of worship. It seems White America (TM) only puts value on Black Lives after they have been taken – and even then it has to be the "right kind of Black Life" to matter.
Posting things like this as if ending Supremacy is a "checklist". As if taking down systemic racism is the same as taking down symbols of systemic racism. Meanwhile the charges against #BreeNewsome have NOT been dropped. That's not how this works. That's not how any of this works.
The removal of the flag was given a "dignified ceremony".

I find this to be the most egregious part of this facade. This flag was taken down by a military color guard, folded in ceremonious fashion and handed over white gloved to the curator of the "South Carolina Confederate Relic Room & Military Museum"
This flag is not a Confederate "relic". It was not flown in the Civil War. It was a BRAND NEW flag when it was hung in 1961 and I would even wager that the flag taken down was not even that original flag – if anyone has data on this please let me know.
Further more, to traipse this symbol of hatred, past the families of the Charleston massacre victims was a sick piece of theatre. This flag was given the same "dignity" as Hon Rev Clementa Pickney was treated to. America is SICK with Supremacy.
And finally If we are talking symbolism – it's not lost on me that the majority of the Color Guard that removed the flag was Black. Visuals are particularly important when pageantry, not reality is the purpose.
---
Today on NBC's "Special Coverage of said dignified ceremony, Chuck Todd & Matt Lauer proclaimed, "It feels like the country has moved on" and that this has been a "lesson in leadership" and that "SC is desperately trying to move on". My first thought, is of COURSE two rich white men would think that. But then I started looking around on social media. Seeing people post they were in tears seeing the flag come down, seeing white people posting joyous "We Shall Overcome" images, watching Don fucking Lemon crying on national television – that is what prompted this piece. Again more pageantry without purpose.
I am very glad that the Confederate Flag is no longer flying in Columbia, SC. I'm even glad that this discussion has ripped back some of the fake "post-racial" veneer that White America (TM) has been believing for decades. But let's not call this a "victory". Let's not forget that the armed and dangerous cold blooded murderer of 9 Black leaders was taken into custody without incident or harm, while Freddie Gray was illegally detained and taken on a rough ride that killed him at the hands of Baltimore Police. Let's not forget that a KKK rally is scheduled for the South Carolina State House in just a few weeks. Let's not forget that every day Black people continue to fight for our liberation.
Victory does not look like a flag coming down: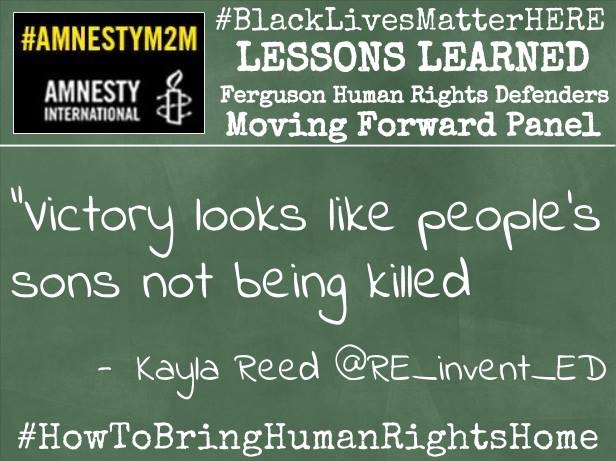 – by @LeslieMac